Aircraft Rescue & Fire Fighting
The ARFF courses are conducted at your facility, with your equipment, your protocols, and your mutual-aid partners. On-site training reduces travel, per diem and overtime costs associated with sending your staff out of town. We bring the mobile aircraft rescue firefighting trainer (MAFT), along with experienced instructors and operators. Our staff and equipment can flex to meet your training objectives through live-fire exercises and classroom education. 
In addition to live-fire training evolutions, the MAFT can be used without active fire as the focal point of community-based disaster preparedness exercises, hostage simulations, or responding to terrorism. IEC has served numerous clients with the Mobile ARFF Trainer; including local agency ARFF personnel; Department of Defense ARFF personnel; structural firefighters; and airport operations personnel. 
IEC's Mobile ARFF Trainer is listed in AC 150/5210-17C, and is 14 CFR Part 139 and NFPA 1003 compliant
Three separate engine fire props; high wing, low wing and tail
Interior cabin/galley, exterior fuselage, and wheel fire props
Spill fires with each zone independently controlled
Hands on, simulated engine shut down and electrical cut-off procedures
Cockpit door with forcible entry capability
Two main cabin doors with stairs; and one over wing exit (OWE)
Two High Reach Extendable Turret (HRET) piercing panels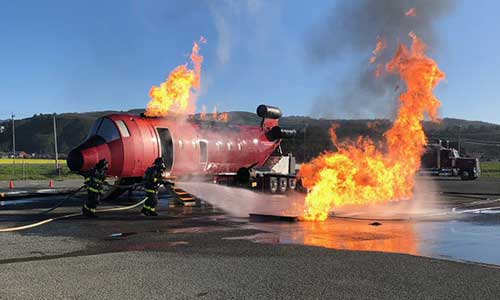 Fire Control 5A: Aircraft Rescue & Fire Fighting –  Initial Training (40 hours)
Industrial Emergency Council's (IEC) aircraft rescue firefighting program is an intense, hands-on class that will require participants to participate in simulated, realistic live-fire exercises. Trainer is compliant with FAA Part 139 and NFPA 1003 and includes:
Simulated wheel, multiple engine, APU and cabin fires with smoke.
Simulated large pit fire that measures 480 square feet. (1380 sq. ft. critical fire area)
Simulated shut down procedures in cockpit of the aircraft with forcible entry door.
Piercing panels
Smoked interior rescue